The implementation of water reuse systems are becoming more important and more popular than ever before. With freshwater resources being tapped for agriculture, industrial use, and city development, the need for a reliable source of clean water is in high demand. Many cities are turning to water reuse systems when building new infrastructure for their schools and parks. Water reuse systems drastically lower water consumption and as a result, lower the water bill each month.
If you can recall a lake's water level being low or a stream running dry, that's a sign of ground water being overdrawn or a shortage in rain water. When these occurrences happen regularly, cities start to put restrictions on the public's water consumption. Examples could be irrigation restrictions during a drought, or regulations on impervious surfaces for homeowners. To comply with these restrictions, many homeowners will use drought resistant plants, install efficient sprinkler systems, or build permeable paver patios.
For much larger properties though, a more sophisticated infrastructure is necessary. Water reuse systems do exactly what they sound like. They convert wastewater into usable water. Water that's no longer clean for drinking, such as rainwater or rooftop water can be reused for other purposes. Rather than letting that water flow offsite, be treated, and then pay for new city water, we can capture it, store it, and use it again.
Minneapolis Convention Center
At the Minneapolis Convention Center, a 392,000 gallon tank was installed underneath the employee parking lot. The 10' diameter pipes cover an entire area roughly 14,000 square feet. This particular water reuse system collects any runoff water from the rooftop on the Convention Center which is 1,540,000 square feet. The water is then reused for irrigation on landscaped areas around the Convention Center. This system is also designed into a larger infrastructure plan that will help irrigate the park across the street.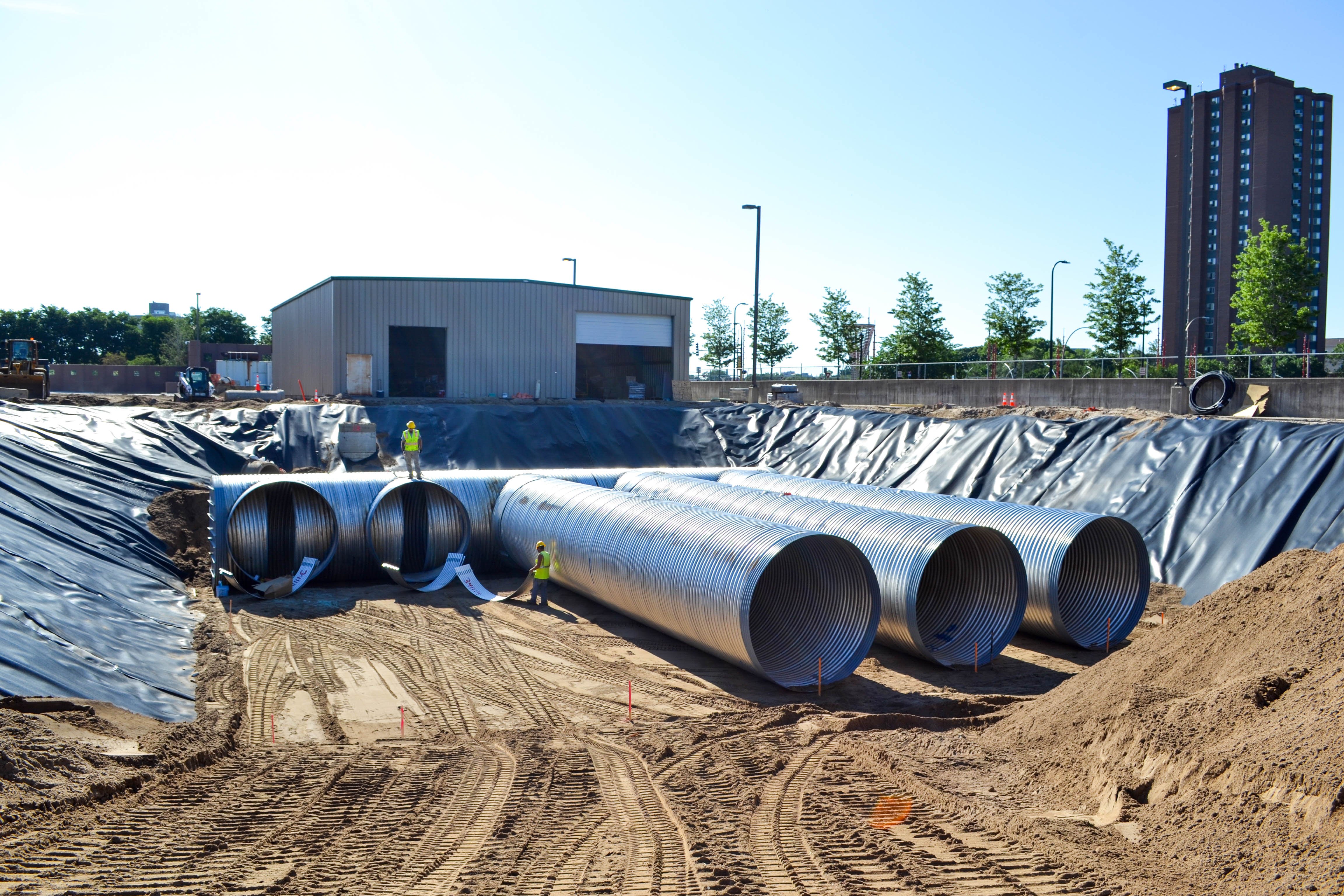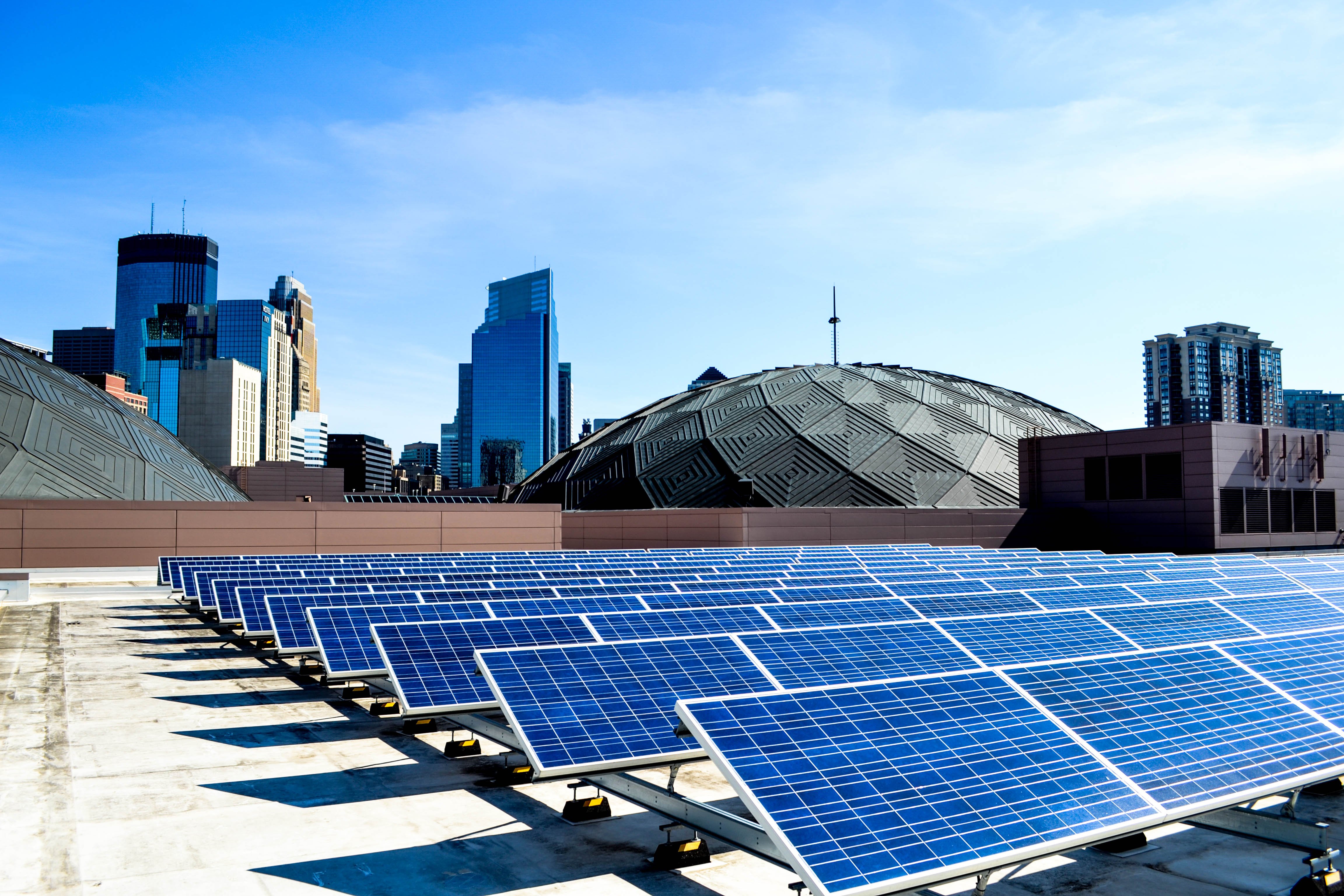 Chaska Curling Center
The water reuse system used at the Curling Center in Chaska is a stormwater system rather than a rooftop system like Minneapolis Convention Center. Any rainfall that isn't absorbed into the landscape is diverted to the storage chambers underneath the parking lot. The water is then used for irrigation purposes around the Curling Center. This storage chamber can hold up to 120,000 gallons of water at a time.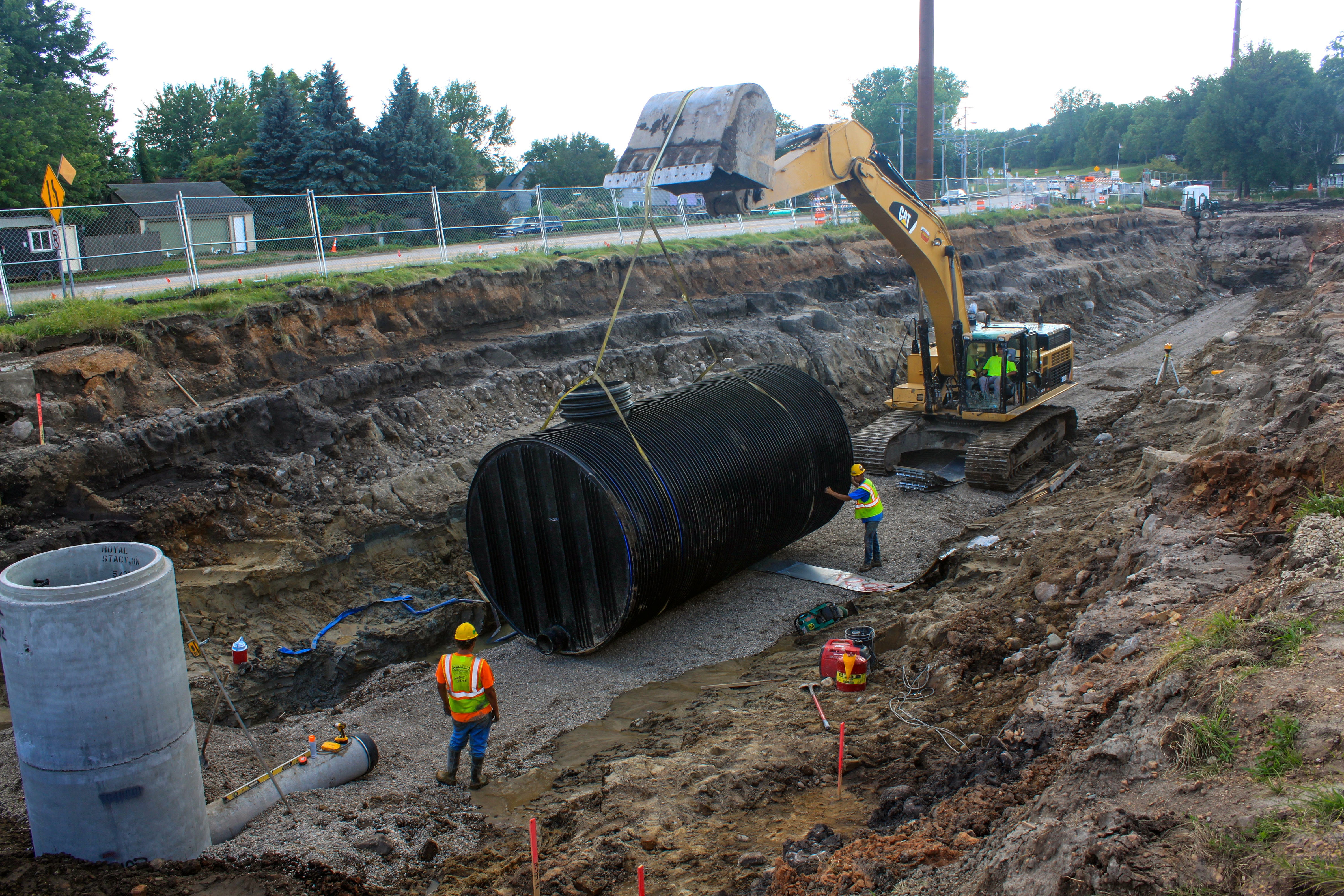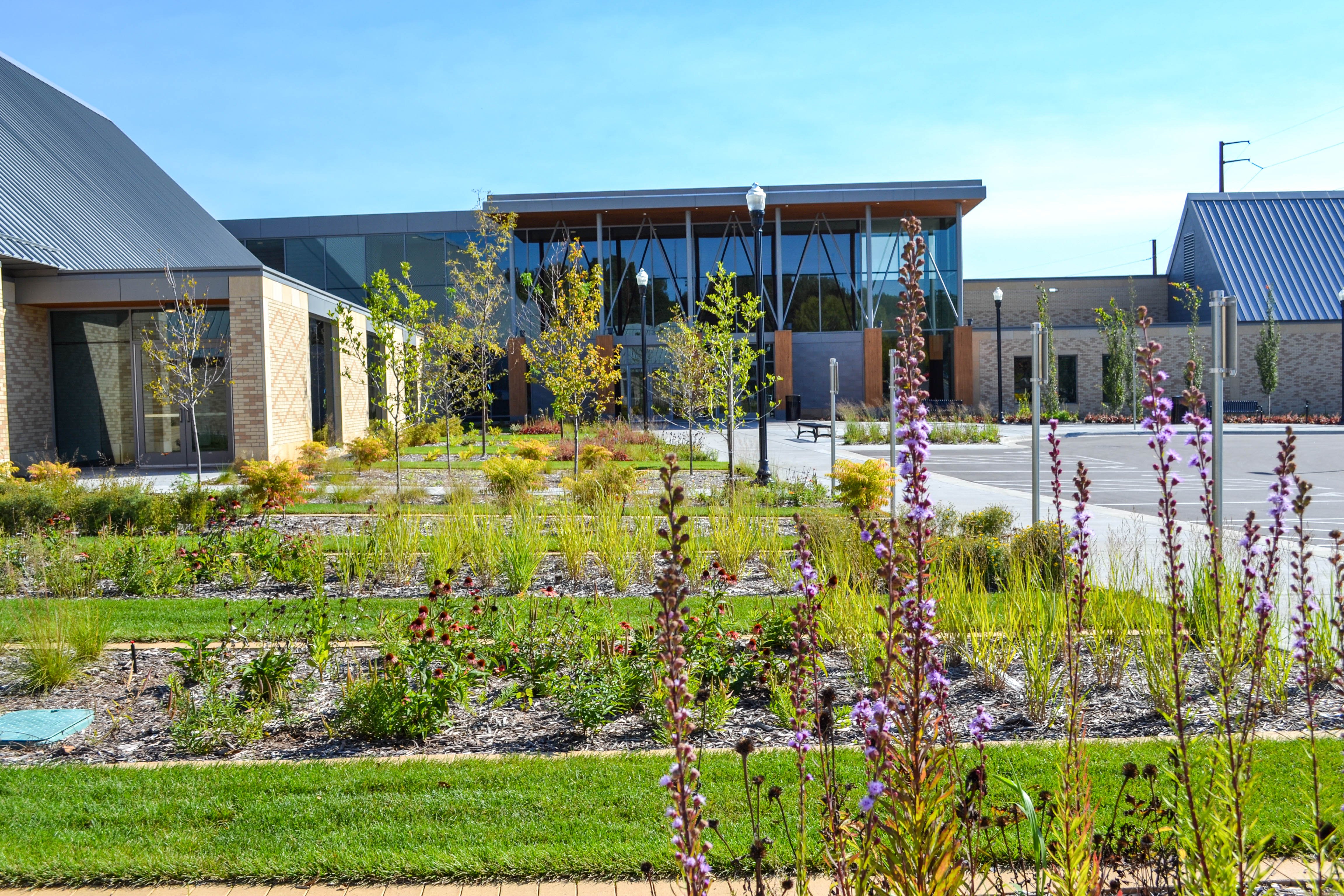 CityPlace Development
Unlike the Minneapolis Convention Center or Chaska Curling Center, the water reuse system implemented at CityPlace in Woodbury is a stormwater pond instead of storage tank. The rainfall on this commercial development is channeled to a pond onsite. Water from the pond is then pumped out when needed for irrigation. The pond itself collects water runoff from the buildings and parking lots. What's beneficial about a stormwater pond is that it's nice to look at and provides habitat for this large landscaped area.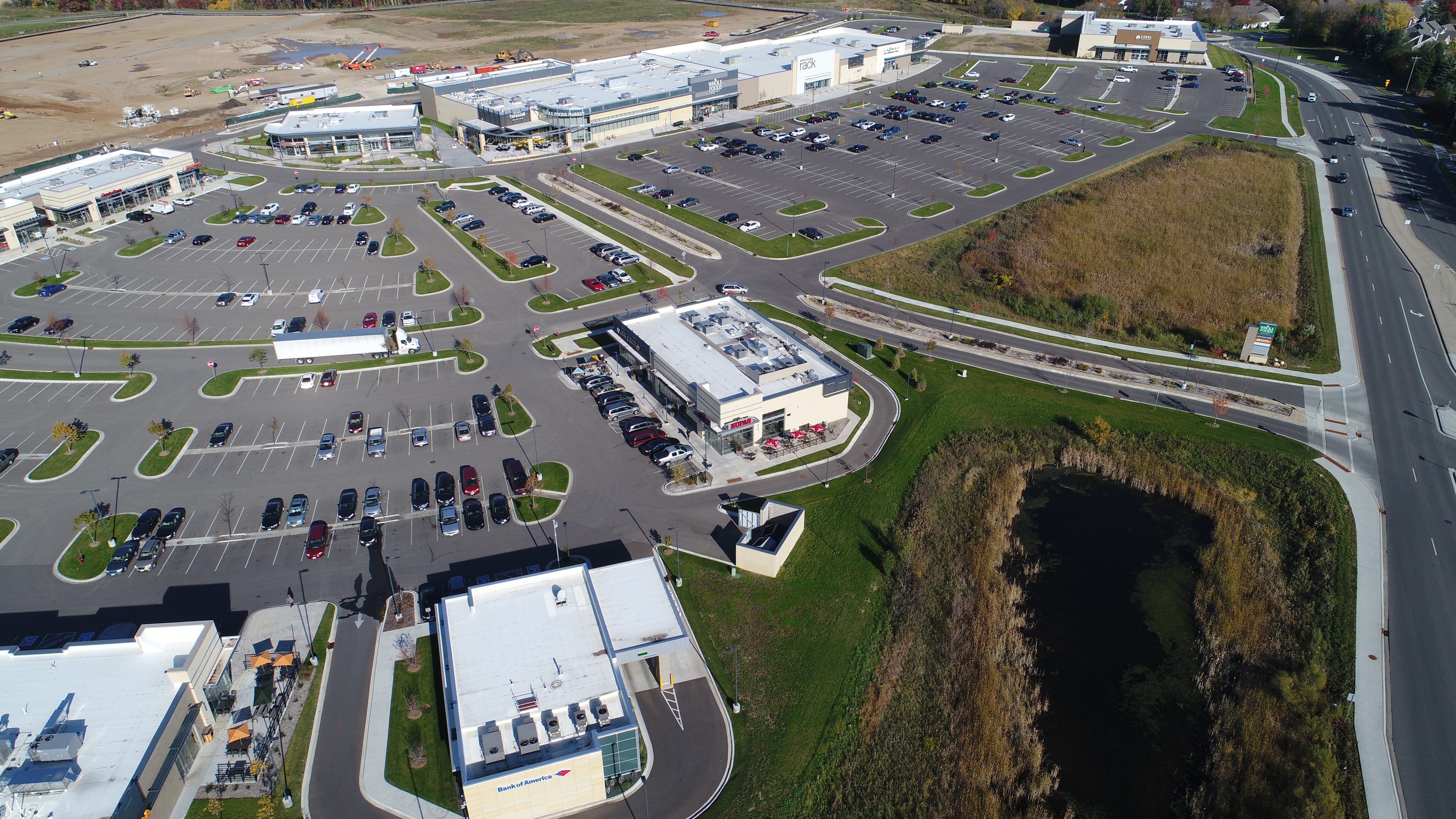 Downtown East Commons
The park next to US Bank Stadium reuses water from a recreational splash pad to produce 1 million gallons of water that irrigates the lawn. A grid of perforated tubing underneath the park collects excess water and channels it into a small 20,000 gallon storage tank. In addition to the water reuse system, the Downtown East Commons features two different types of permeable surfaces. There are concrete permeable pavers as well as porous pavement.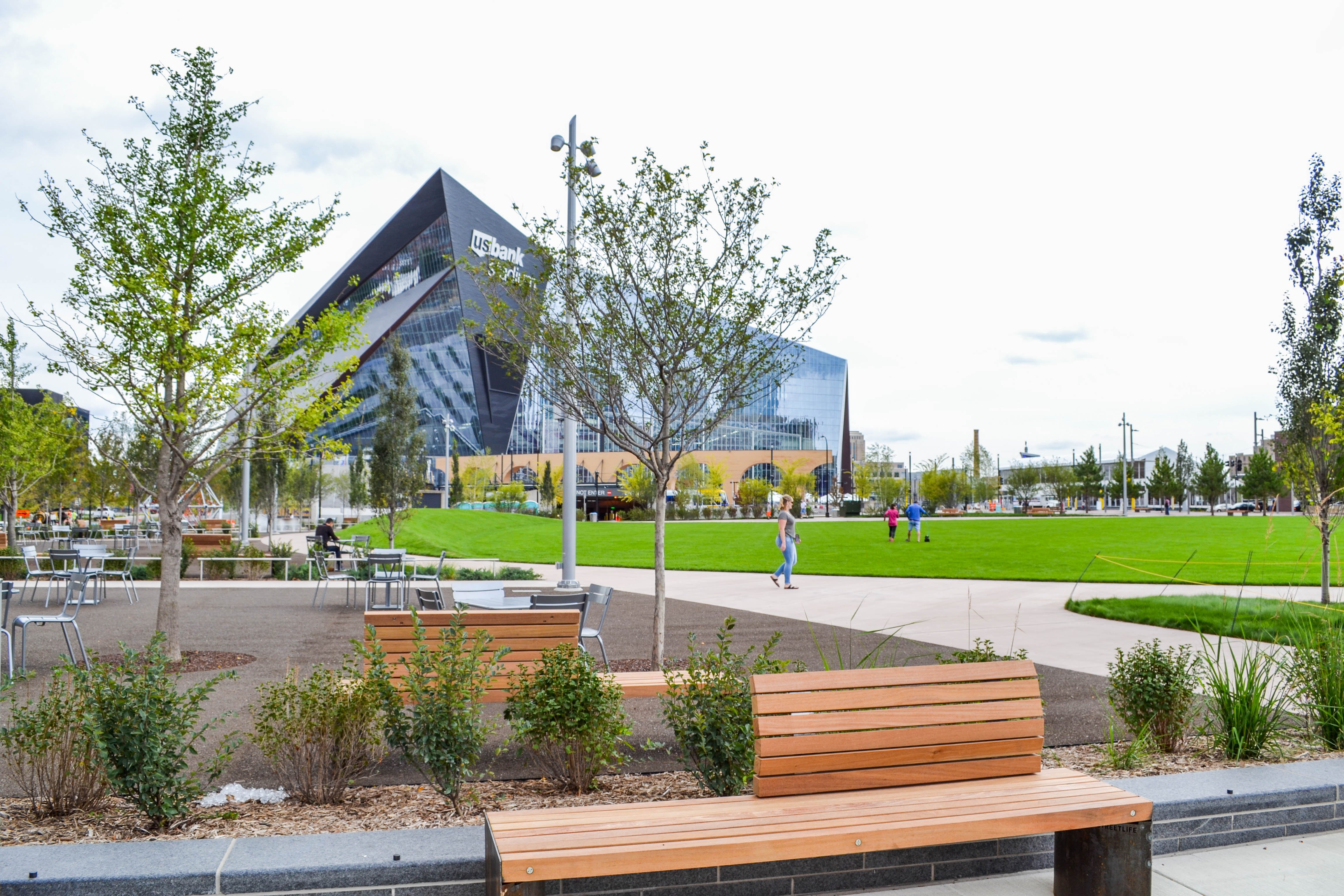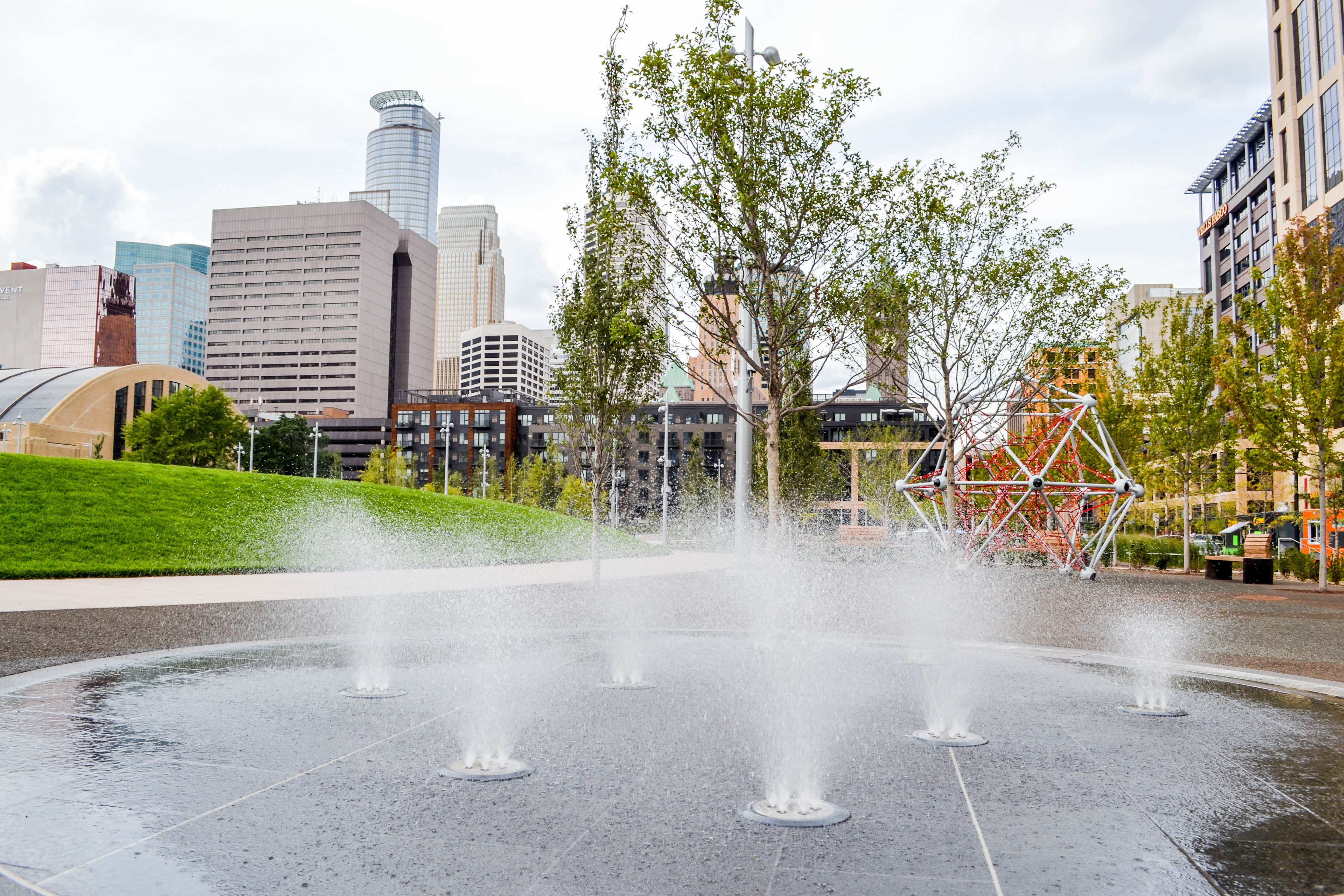 To learn more about water conservation and efficient irrigation techniques, check out a few of these resources.
WaterSense is apart of the United States Environmental Protection Agency and their mission is to promote "a nationwide ethic of water efficiency to conserve water resources for future generations and reduce water and wastewater infrastructure costs." They are a label for efficient products as well as a resource for water management.
Hunter Irrigation is a manufacturer of irrigation system products whose focus is to "develop innovative, professional products for efficient irrigation. Hunter's proven water-saving products combine efficient water use with sustainable design".
UMN Extension is a great resource for local landscaping, agriculture, animals and livestock, and natural resources. As an extension of the University of Minnesota, all of their research and resources are hyper specific to the challenges Minnesotans face in the natural environment.
Minnesota DNR is another local resource of information for topics relating to the environment.