Natural stone in residential landscape projects are by far the preference over manufactured clay or concrete pavers and block. 3 Most Common Patio Materials The cost however reflects the many benefits of natural stone as it is the most expensive option. However, not every stone is created equal. The cost of natural stone can range largely due to its size, labor, availability, and location.
Cut Stone or Natural Edge
The first difference in natural stone cost depends on how the stone is formed into its shape and size. There are several styles of stone and different terms to describe the look. Some of the styles and terms used are sawn, cut, split face, weathered edge, natural edge, and tumbled edge. Sawn or cut stone basically means that the stone has been sawn, chiseled, or cut to a specific size or shape. Whereas natural edge describes the stone being split on a natural breaking point or cleavage line. The more labor required to achieve precise sizes and looks results in higher costs. The sawn edge version of stone is generally more expensive than its natural edge counterpart.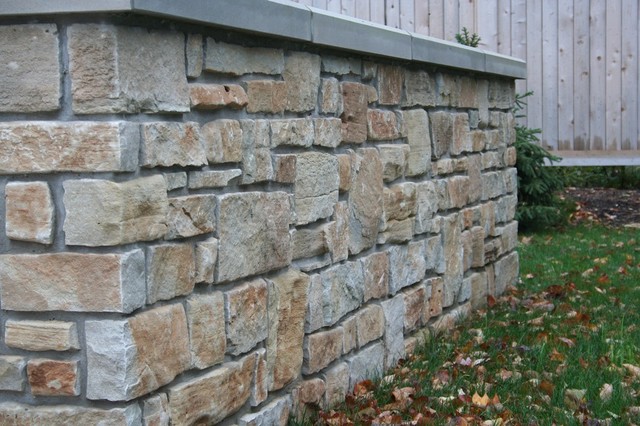 Stone Availability
Like any product or service, the cost of natural stone is dependent on supply and demand. Because stone is a natural resource pulled from quarries, its supply isn't always consistent. It can't be manufactured at a steady rate like other products. The supply of the stone may be dependent on the season or quarry productivity not to mention the shear abundance of stone types. Stone that is abundant and common will typically be lower in cost than a scarce stone that has a high demand because of its brilliant color.
Quarry Location
One element that effects stone availability is proximity to a quarry. If a landscape company in Minnesota is installing a custom stone wall using a material that was quarried across the country, the cost of that wall will be much more than if were built out of local stone. Using native or local materials from nearby quarries will result in lower delivery costs and shorter lead times. Stone like Limestone Boulders, Chilton Flagstone, and Valders Cut Stone will be much more abundant to projects in Minnesota compared to New York Bluestone or a Sandstone from Arizona. The farther the stone travels, the more expensive the product becomes.
Labor Intensity
The three previous factors directly affect the material cost at purchase, but the installation cost is most important for a homeowner. Many times, the materials used aren't even half the cost of a landscape project. Labor is what usually costs the most. Not every stone type is equal in labor intensity. Some stones are extremely heavy and bulky making it difficult to handle and place. Small intricate pieces take a lot of time to lay, especially for large patios and walls. Natural edge stone requires more care when fitting multiple pieces together since there isn't a straight edge to line up. The more time, touches, and cuts to the stone add to the cost of labor and overall price of the landscape project.
When installing a new landscape retaining wall or patio, cost is usually very important for a homeowner. The cost of a residential landscape should be factored just as heavily as the appearance and function. Choosing a material that is scarce and high in labor intensity can lead to a project out of the budget. To learn more about landscape costs and materials, download our Comprehensive Guide to Budgeting a Landscape Project.