Over the next couple of months, many of us will be busy during the holiday season with trick or treating, Thanksgiving, and Black Friday shopping. It will be easy to neglect our residential landscapes and yard chores. Have no fear because the ultimate fall chore checklist is here! Hopefully you've already gotten a start on some of these tasks (cough, cough, irrigation blowouts). If you haven't, make time in the coming weeks to ensure that your yard and landscape is fully winterized so you can rest easy until spring.
Any home that has an underground irrigation system needs to winterize their sprinklers. If the water in the pipes are not drained and turned off, the entire system can freeze and burst during winter. This should be done in October. If you wait too long into November, there is a greater chance of a cold night doing damage to the system. Read article.
Late August to early October would've been the best time to seed your lawn, but it's not too late to dormant seed. Dormant seeding is the process of sewing grass seed during the dormant season when temperatures are too low for germination. This would be a perfect project for November. Read article.
The best time to prune plants is during their dormant season so you don't clip off any new buds or new growth. Most people know to cut back perennials, but the fall and winter months are a great time to take care of those overgrown shrubs. Pruning can be done in months that end in 'R': October, November, and December. Read article.
Look at all the pretty trees with their ever-changing fall color... now look at them dump all those leaves on your yard. Do you rake the leaves, do you mulch them with a mower, or maybe just ignore them until snow comes? Try composting the leaves in November. Read article.
Plants can still be planted even late into the year. The roots might not have enough time to establish, but they will go dormant during winter. As long as you get them in the ground before the dirt freezes, you will have nice winter interest and new plants in the spring. Read article.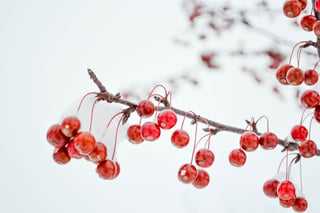 Plants that are susceptible to the harsh conditions of winter need to be protected. This could be wrapping Arborvitae with burlap or adding a layer of mulch around a Magnolia tree. Early November is the best time to protect plants. Read article.
These projects are usually the ones that get pushed off until spring and the homeowner sorely regrets it. Dealing with surface and erosion issues should be fixed before the freeze-thaw cycle and before the snow melt of spring, not after. Contact a professional now to take care of these projects before winter. Read article.
Technically this is a winter project and not fall. But in Minnesota, it would be wise to get an early start to avoid frigid temperatures. Late November would be appropriate without cramping the style of Thanksgiving. Read article.
Looking for a simple checklist to make sure all those tasks are taken care of? It's easy to forget to clean gutters, plant bulbs, or protects plants. Make a checklist for yourself to tackle during September, October, and November. Read article.