Project Description:
Client wanted to revamp the front porch, walkway, and plantings, as well as the driveway. They also wanted block columns installed at the end of the driveway complete with lights and house number. The front step coming off the porch was very narrow and potentially a safety hazard. That was extended to a wider depth to be safe and functional. The driveway was dug up and a paver apron was installed before re-tarring the drive. The same pavers were used for the sidewalk and porch areas for a smooth, consistent look pulling everything together. New plantings were put in place with grey granite rock for an eye catching contrast. Landscape lighting was installed to highlight the new features.
PAVER PORCH AND WALKWAY
The step on this porch was not very deep, so we extended it to triple its size, making the area functional and safe.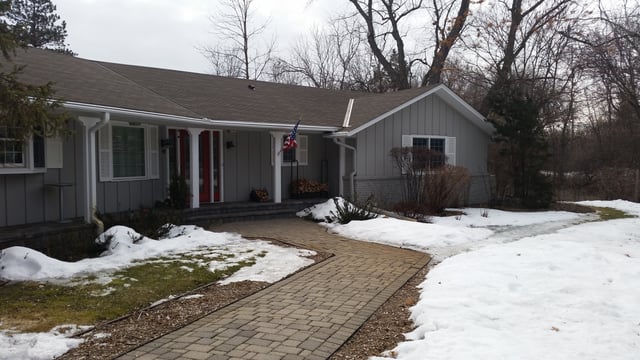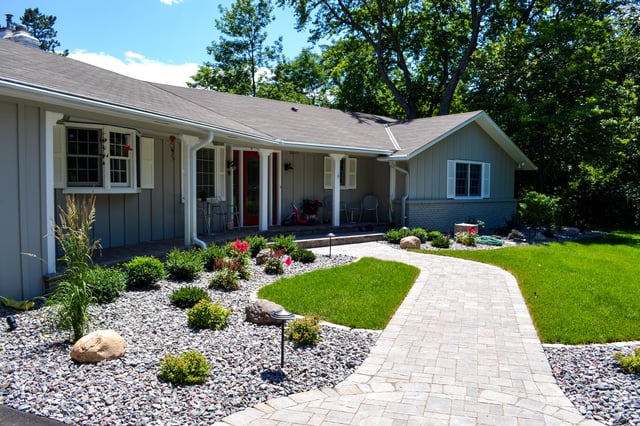 DRIVEWAY
The driveway was redone, complete with a new paver apron matching the stone used in the sidewalk. The lighting was also updated at the end of the driveway with block columns and an address marker.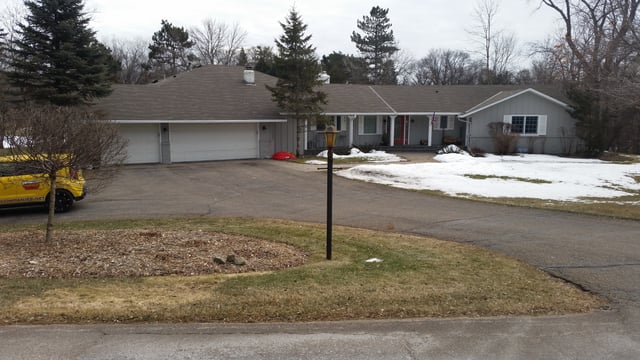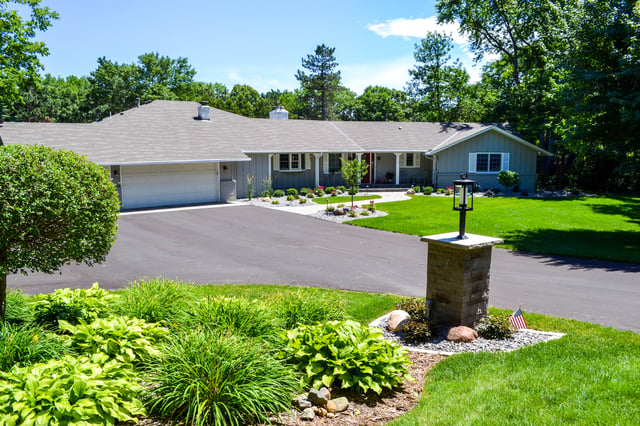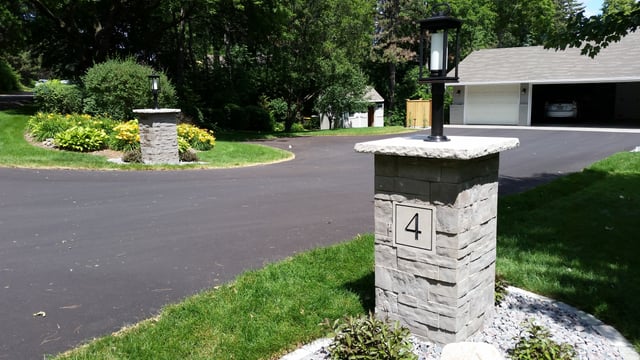 LANDSCAPING
The landscaping was updated to fit the new space. New trees, shrubs, and perennials were planted and new rock to fill in these areas.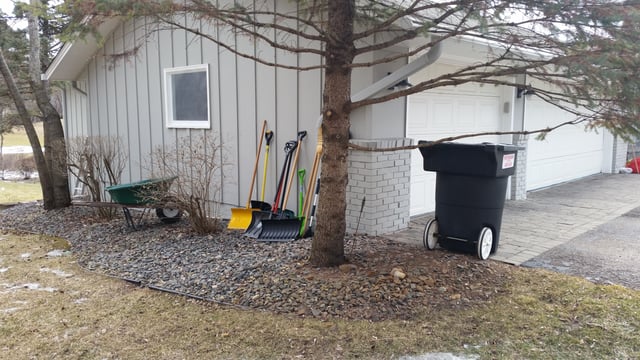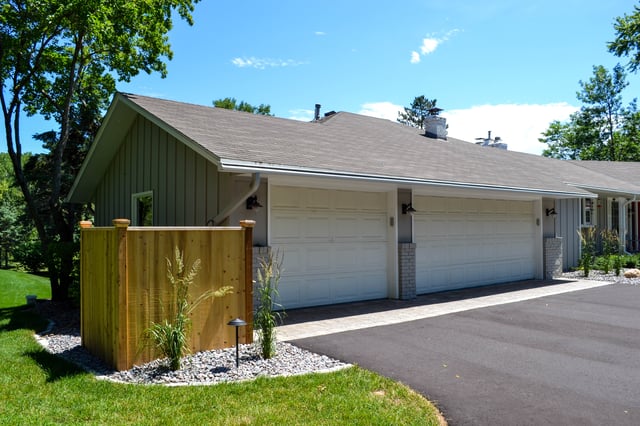 Customer Needs:
Remodel porch and expand step to make it safe
Install a new sidewalk
Refresh landscaping with new materials and plantings
Revamp lighting at the end of the driveway with block columns and new lights
Irrigation modified to support the new landscape
Install a new driveway
Peterson Solutions:
Removed existing driveway, excavated and removed soil to install base material and asphalt
Installed a paver apron in front of garage doors on a gravel base
Repaved porch and poured an extension onto the existing step
Installed paver sidewalk with two half circle cut-in borders
Removed existing plants, rock, mulch, edging, and sod
Installed border stone edging, new fabric weed barrier, 12 ton grey granite, 12 boulder outcroppings, flagstone path, cedar fence to enclose trash cans, and drains and drain tile for downspouts
Installed trees, shrubs, and perennials
Constructed two block columns on each side of the driveway which included lighting
Installed 7 path lights, five spotlights, and two under-cap lights
Repaired any sod that needed repair
Irrigation was modified to support the new sod areas and soft-scape areas
Primary Materials:
Gravel and Class 5 base material
Bergerac and Lafitt pavers
225 feet of Chilton border stone edging
Fabric weed barrier
12 ton grey granite
12 boulder outcroppings
Flagstone and cedar fencing
Drains and drain tile
Trees, shrubs, and perennials
Anchor Brisa block with Indiana limestone caps
Various lighting and lighting fixtures
Sod
Irrigation piping and heads
Project Duration:
Week 1 – Removed existing driveway and landscaping. Installed all pavers on porch, step, sidewalk, and driveway apron
Week 2 & 3 – Installed 225' of Chilton border stone edging, all plants, and 12 ton grey granite rock
Week 4 – Installed driveway, irrigation, and sod
Week 5 – Installed all lighting and cedar fence