One of the most difficult tasks when embarking on a landscape project is being able to envision a new design in the existing space. It's even more difficult when the existing space is a dilapidated pool and deck. For this particular project, we needed to ignore that deck and re-envision how the homeowners could best utilize their backyard. Our job was to transform that area into a one-level outdoor living space suitable for entertaining. The new design would be a huge upgrade and complete makeover to what the homeowners had become accustomed to.
BEFORE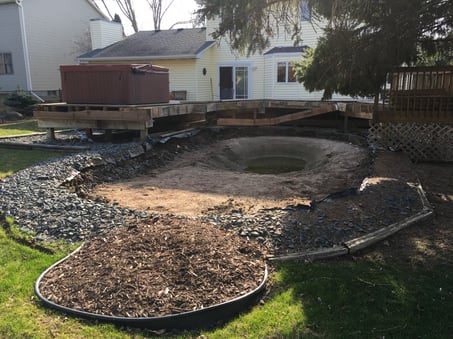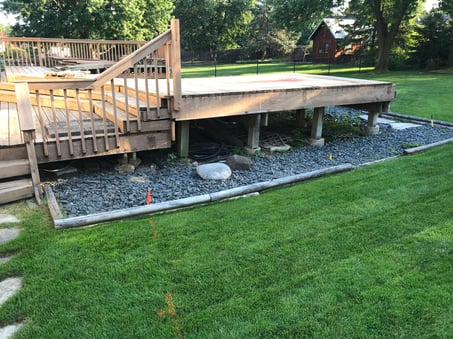 Customer Needs:
Remove existing wood deck, edging, trees and fence
Create a patio that could be enjoyed both day and night throughout the season.
Peterson Solutions:
Tore apart and removed the wood deck, two large trees, rock, and edging
Excavated and regraded for a new patio with landscaping
Installed a large patio using Willow Creek Cobble pavers in a blended color and random pattern
Installed a 30" gas fire pit using

Versa-Lok

Ledgestone block. Connected the gas line to the old pool heater
Installed both free standing and retaining walls using Versa-Lok Ledgestone block
Installed landscape lighting underneath steps and around patio
Planted shrubs, grasses, and perennials in landscape beds with still edging and mulch
Laid sod for new lawn and damaged areas
DURING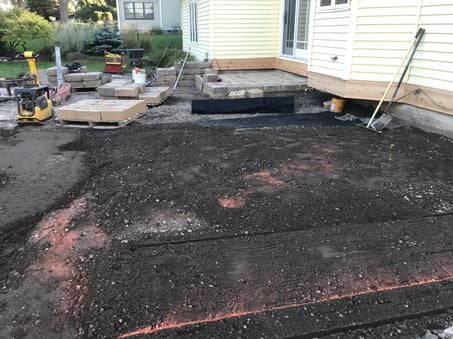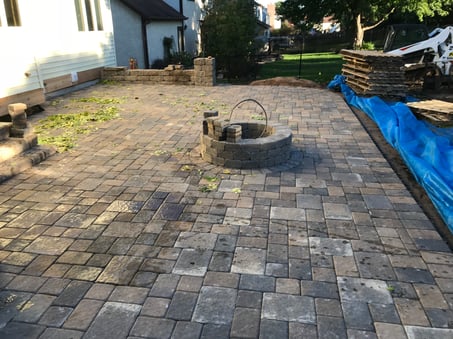 Materials:
16 cubic yards of black dirt
3 cubic yards of hardwood mulch
Class 5 gravel base and bedding sand
740 sq ft of Willow Creek Cobble pavers
Fire pit kit with lava rock
2 landscape spotlights and 10 under cap lights
40 ft of steel edging
15 total plants
4 pallets of cut sod
Duration:
Days 1-2: Demolition and removal of existing deck
Days 3-5: Excavation and base prep for patio
Days 6-13: Installation of patio, steps, gas fire pit, and freestanding wall
Day 14: Run low voltage lighting for spotlights and under cap lights
Days 15-17: Installation of small retaining wall around side of the house
Day 18: Installation of plants, mulch, edging and sod repair
AFTER