Extravagant homes with amazing backyards riddle the internet and TV. They look like flawless creations that draw envy from neighbors. Whoever lives in these homes must enjoy everything about their life. Life would be perfect if that was the yard you came home to every night, right? But what if your outdoor room isn't a magical backyard oasis? It doesn't look like a magazine dream home, and it draws mockery instead of envy. You aren't alone. The reason why you don't love your backyard patio is because it is just a blank, barren, slab of concrete. It isn't an extension of your home and it isn't conducive to relaxing, cooking, or entertaining.It's okay if you don't have the largest patio with the state-of-the-art kitchen. Not every outdoor room can be magazine worthy, but it CAN meet the needs of each individual homeowner. Let's try to resolve some common homeowner complaints about their residential landscapes.
"My patio is too small. When we want to entertain, we have to use mismatched chairs and have people sit in the lawn."
First of all, don't install too small of a patio. If it's too small, it won't be used. If it isn't used, then it's a waste of time and money. However, small patios can still pack a punch when designed well. There is also a perception that a small yard requires building a small patio. Before calling a contractor, think about what you want your backyard to achieve, and envision how you will use the space. Do you want to entertain large groups, or do you want a nice quiet place to read? Designing a space with a purpose will get you exactly what you want, nothing more and nothing less.
"My yard has zero privacy. The neighbors can look right into our backyard and see everything we are doing."
Nobody wants to live in a glass house or fish bowl, so why put up with nosy neighbors when you go outside? Before building a large and expensive privacy fence, figure out where, when, and why you need privacy. (Creative Landscape Privacy) Strategically placed shrubs and trees can block an unsightly view without walling off the entire perimeter. That way your yard still feels natural and inviting. A well designed privacy screen, trellis, or structure will also do the trick. Not only do vertical structures offer privacy, but they also add a third dimension to an outdoor room without taking up valuable floor space.
"There's no shade. It gets way too hot during the day to sit outside on the patio."
Shade is a tricky issue. Some want a patio filled with sun for tanning, others want to be able to sit without sweating constantly. Planting a tree may take a while before reaping it's benefits and the type of tree is important for how much shade is given. For more instant results, try building a pergola. This will give filtered shade without blocking all natural light. A pergola will increase the usability of a patio day or night, sun or shade. There are other unique solutions that are aren't as permanent as pergolas. These could be canvas canopies, shade sails, and outdoor blinds. Any of these options will dress up an outdoor room while reducing the intensity and heat of the sun.
"My fire pit is so far away. It's a big hassle to bring fire wood, chairs, and supplies out there. We have to walk through the yard dodging dog doo-doo and then the chairs end up sinking into the grass and mud."
Because fire pits can take up a lot of space, most are moved away from the patio. It's not the end of the world, but it does kill the vibe of a nice dinner or party when everyone has to relocate to sit by the fire. If space is the issue, try incorporating a built-in fire pit on the edge of the patio rather than the center of it. When the fire isn't being used, it won't be in the way. It's much easier to rearrange chairs around the fire pit instead of moving away from the patio completely. If smoke is the reason you don't want a fire pit on the patio, gas fire pits are the perfect solution. Fire with the flip of a switch and no pesky smoke or fire wood.
"My grill doesn't have much function and lacks space to work."
A grill with a side table doesn't exactly qualify as an "outdoor kitchen". But for the master grill chef, it might be worthwhile to upgrade their outdoor cooking experience. Obviously there is a large spectrum of outdoor kitchens and not every budget allows for the luxury model. It is crucial though to have adequate work space and seating if summer barbeques are a regular occurrence. Start with a built in grill that comes with some basic storage and counter space. If you want to add the refrigerator, sink, and bar, then go for it. But the key to a good kitchen is for the chef to feel a part of the party. Make sure the outdoor kitchen is easily accessible, placed near the dining table, and has the utensils or equipment necessary to get the job done.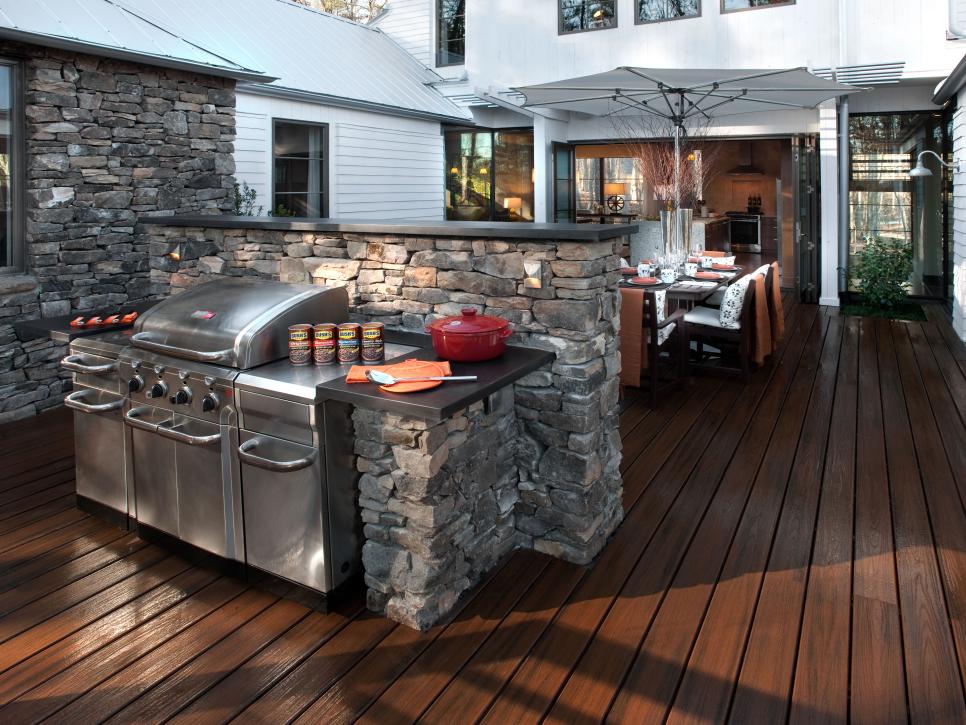 Not every backyard can be on a magazine cover, and there isn't a one-size-fits-all design. That doesn't mean your yard can't be your dream space. Quit putting up with inadequate space and nosy neighbors. If you properly address these common complaints, there's no reason why you can't fall in love with your outdoor room.