Patios are one of the staples of residential landscaping. Patios increase the value of a home by adding extra entertainment space outside. With durable outdoor materials, your patio will become a permanent feature in your backyard to enjoy for years to come. When investing in a landscape project that includes durable materials like stone or concrete, you want to ensure that you are using the correct material for the job and your budget.
It is important to evaluate your site's weather conditions, size restrictions, and the architectural style of the home. Not every material will be a good fit and match for your backyard patio design, so choose wisely with this material comparison.
Three of the most common patio materials include:
Concrete
Pavers
Natural Stone
Concrete:
Concrete is the most affordable option per square foot. The installation time is quick and is the least labor intensive of the three. It can be formed into nearly any shape and size during installation with relative ease. Options to upgrade with colors or stamped patterns will increase the cost due to extra materials, equipment, and time added to the job.
Maintenance for a concrete patio is pretty basic and a fresh looking patio is achievable for most homeowners. Occasional sweeping and power-washing will prevent debris from building up and staining the concrete. Sealing concrete is recommended to protect the surface from harsh elements like the sun, extreme temperatures, and chemicals. If resealed every 3-10 years based on application and use, a concrete patio will retain its color, and last for many years.
Concrete patios are typically poured 5" thick with reinforcements on a compacted base material. They are designed to withstand heavy loads and freeze thaw cycles. All concrete is prone to crack eventually, but if installed correctly with proper engineering, the severity and frequency will be much less.
Pavers:
Pavers are a man-made material composed of either concrete or clay. The material cost is slightly higher than poured concrete and requires a little more finesse when installing, but they are still quick to install and ready to use immediately. Pavers can be used on any size patio and offers lots of shapes, patterns and colors. Find the Right Paver Pattern For You
Similar to concrete, a paver patio finishes very nicely and doesn't require much maintenance. The basic sweeping and power-washing will keep the patio looking its best. If the pavers are made out of concrete and not clay, sealing should be considered. The main difference between a poured concrete patio and pavers is the joints in between each paver block. The low spots of the joints can be an easy place for moss and weeds to grow. How to deal with preventing moss and weed growth is up to each homeowner and how much time they are willing to invest to remove it.
Clay pavers are extremely durable and can last a lifetime. Concrete pavers, however, have a shorter lifespan and face some of the same issues as poured concrete. The benefit of pavers, though, is the integrity of the entire patio isn't effected by one large crack. If one or two pavers crack and chip, swapping out those individual pavers is relatively simple.
Natural Stone:
Natural stone can be the most luxurious and durable material, but it's also is the most expensive for patio installation. Not only is the raw material more expensive depending on the quarry, but natural stone requires experienced professionals to install the patio. Natural stones are usually irregular in shape and size and require precise fitting and cutting to match the patio design. Some common stone types are limestone, bluestone, and granite.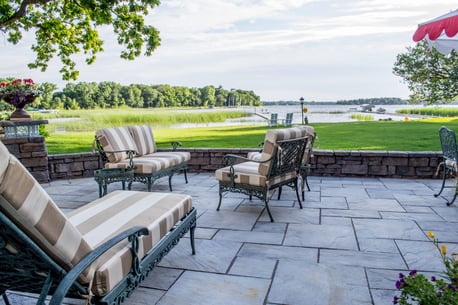 Natural stone doesn't require any sealing, but will benefit from keeping the surface clear of debris. Depending on the pattern and finish of the patio, moss and weeds can grow between cracks and joints just like pavers. A note to consider is the darkness of the stone being used. If the patio is situated under mature trees that drop seeds, flowers, or leaves, it can leave stains on the surface and discolor the stone. If this is the case, it is recommended to use a darker stone material to hide the discoloration.
The lifespan of a natural stone patio can outlast the time most homeowners even live in their house. The stone itself is extremely durable and can withstand heavy loads. If installed properly, the patio will be just as charming and filled with character as the day it was installed.
Concrete, pavers, and natural stone are the most common types of patio material, but each has its own pros and cons. Every good patio design is unique to the homeowner. There is no 'one-type-fits-all' material, because every yard and homeowner is different. Before installing a patio, consider your own needs and restrictions for budget, style, and use.