If natural stone is too expensive for your budget, and poured concrete isn't your favorite look for an outdoor patio, then clay or concrete pavers is a great option. It's time now to decide what color, size, and paver pattern you want installed for your patio. A quick Google search uncovers endless options to use but the selection is overwhelming.
It's important to know how the paved area is going to be used. Will it be used around a pool, an outdoor kitchen, or fire pit? Or are you trying to maximize a small patio? Certain colors and patterns will better suit different sizes and functions of a space.
Color
Dark or Light
A general rule of thumb for patios that have trees surrounding them is to use darker shades of stone and pavers. Trees will inevitably drop leaves, seeds, and flowers that could stain pavement that is too light. However, light colored pavement is good where there's lots of sunlight since it won't absorb as much heat. Nothing is worse than burning the bottoms of your feet on scalding hot pavement.
Bold or Subdued
Contemporary homes can be much bolder with their color selection. A stark white or charcoal grey can make a dramatic statement in the landscape. If the surrounding landscape is more rustic and naturalized, using earth tones is more practical. Many pavers come in color blends that have two or three different shades. This look imitates natural stone where there are more variances in color without looking fake.
Matching or Contrasting
Are there any pre-existing stone or hardscape elements in the yard? Consider matching or contrasting the existing retaining wall to the pavers on the patio. Use brick on the house as a reference for the driveway color. There isn't necessarily a right or wrong answer as to when you should match or contrast, but the last thing you want is to clash colors and patterns. For example, it can be very difficult to match different red bricks with each other. In that scenario it's better to find a contrasting material. Red brick looks amazing partnered with blue stone. Limestone walls usually have a mixture of hues and colors, try singling out one of those colors to use as a complimentary shade in the paving.
Paver Pattern
Stacked Bond
The stacked bond pattern has a very contemporary appearance. It works best on larger patios, around pools, and with a single color. The design of this pattern enhances the uniformity of the material.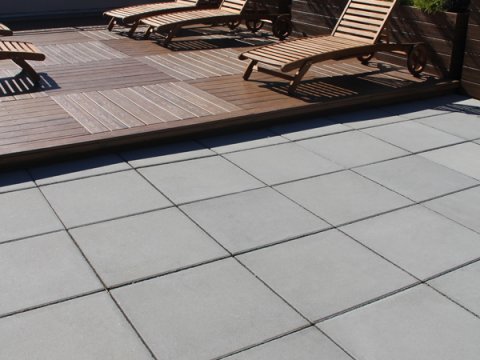 Stretcher Bond
One of the most versatile patterns, stretcher bond looks great with all sorts of materials, colors, and sizes. Depending on the variables of the individual paver, this pattern can fit into both contemporary or traditional spaces. A popular choice for stretcher bond is using long and skinny plank pavers to give a modern twist on a patio.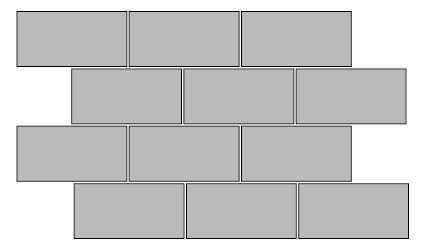 Basketweave
The basketweave pattern is a traditional design but is used in all sorts of spaces including walkways and patios. The most common color used with this pattern is red brick.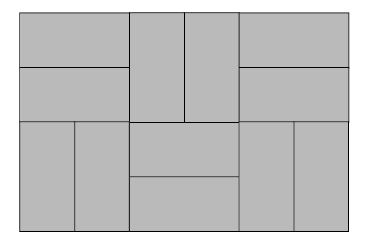 Herringbone
Often used in clothing and interior design, herringbone also looks great in the landscape. It is a traditional pattern that looks nice no matter the shade, color blend, or size. Herringbone adds a visual affect of motion to the plain surface.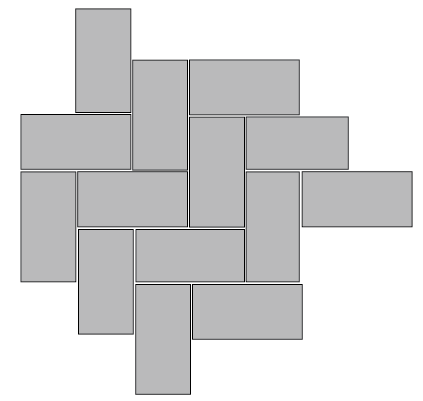 Ashlar
Depending on the color of the pavers, the Ashlar pattern blends into both traditional and contemporary designs. Also known as a 3-piece or 4-piece random, this pattern consists of a combination of squares and rectangles in varying sizes. The arrangement of each paver can be completely random, but is usually based on the size of the patio. An even blend of each size and shape works best to maintain the desired pattern.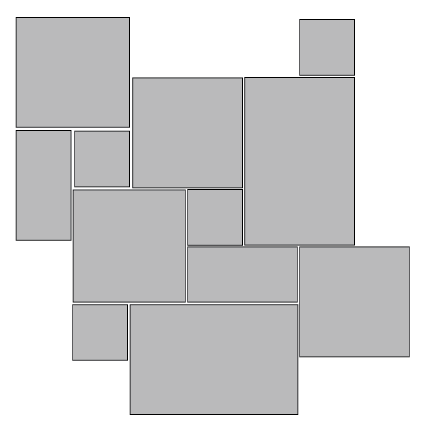 Circle Kit
Circle patterns are often used as stand alone patios for fire pits. These patterns usually come in kits that are very easy to install. To add a point of interest and dimension, circles can be added as in inlay of a larger surface.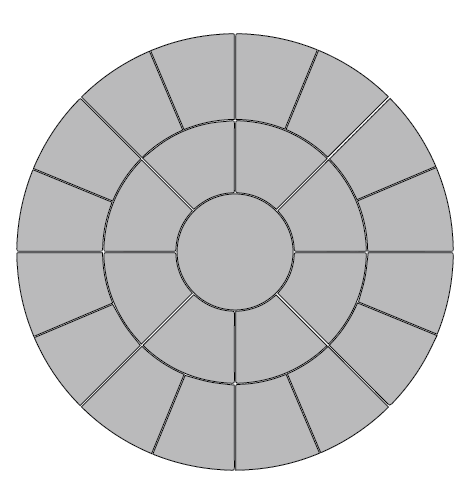 Sometimes there are just too many options to choose from. Hopefully these common varieties can start to answer the basic landscape questions. Other resources to consider for a paver patio are:
- Three Most Common Patio Materials -