There's no doubt a new patio will add to your outdoor living enjoyment. It is a great opportunity to grill, lounge, or entertain on beautiful summer nights. In addition to the great memories and moments to be had on your patio, the average return on investment of a patio is 30%-60%. If you're concerned about maintenance, not only is an outdoor patio more durable than decks, but it also requires less maintenance. However, when budgeting a patio, consider these key factors as they will determine the overall cost of your project:
Size of Patio

Material Used

Soil Condition

Project Access
Size of Patio
Obviously, the bigger the patio, the more it will cost to build due to the extra time and materials used in the design and construction phases. To help determine the size of your patio, think about its function and purpose. For example, are you planning to host large parties, such as graduation, bridal showers, or smaller al fresco dinners with family and friends? What type of outdoor furniture would you like to have? And how about amenities such as an outdoor kitchen or a fire pit to spice up the environment?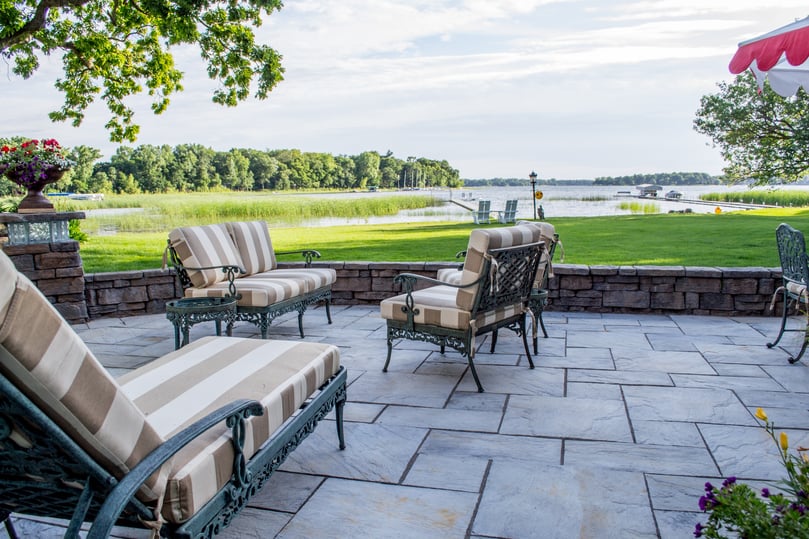 Don't assume you need the same size patio your neighbor has. Chances are they use the space differently than you. Answering these questions will help determine not only the size of patio you need, but also the potential layout. Having a massive patio with multiple levels may be the dream, but practical budgets don't always support the "dream". Be realistic with how much space you need. If all you want is a space for morning coffee with your spouse, then a small patio design is sufficient. How to Maximize a Small Patio

Different Patio Materials
There are a wide variety of materials available for a patio. Below are a few options that will affect your bottom line:
CONCRETE SLAB
Is the least expensive material for a new patio. It's simply poured concreted and formed to the desired shape. You can dress up your concrete slab with outdoor throw rugs and colorful plantings.
STAMPED (DECORATIVE) CONCRETE
Costs more than concrete pavers, but mimics the unique designs and color patterns of higher cost materials such as brick and natural stone.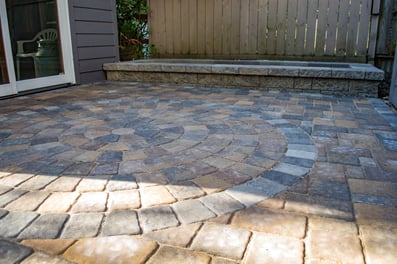 CONCRETE PAVERS
Costs more than a concrete slab, yet is decorative like clay (brick) pavers. Though a concrete paver patio may not have the longevity of brick pavers, they are a great cost alternative with a similar aesthetic.
CLAY (BRICK) PAVERS
Can handle ice, foot traffic, and still look good as they age. Clay pavers cost a little more to install but will retain their color and appearance for decades.
NATURAL STONE
Is longer-lasting, formal or informal, and requires little maintenance. Natural stone comes in many different shades, textures, and sizes. However, it does cost the most due to longer installation time, material costs and installation difficulty due to varying size and shape. If you're looking for a casual, rustic, or classic style, you may want to consider a natural stone patio.
- Compare the 3 Most Common Patio Materials -
Soil Condition
Before any work can begin on building your new patio, the soil underneath needs to be prepared. If your soil is in poor condition, excavation and re-stabilization may be needed before construction. Thus, you'll have additional costs due to soil prep—especially if you have heavy clay or rocky soil—two excavation challenges. This investment however, will save you money in the long run because a well-constructed patio won't need future repairs or a complete renovation due to faulty soil base preparation.

Project Access
If your patio project is complex -- for example, a large patio with an intricate design or one that requires extensive plumbing & electrical work -- then extra machinery or heavy equipment is needed. If the access path to the work site is constrained (too narrow or restricted) and larger machines can't be brought in readily, the more complex working conditions can add additional costs to the project.
Additional considerations include elaborate shapes and designs. If you want something other than a standard rectangle or circle patio, your costs will be higher for the extra labor. Also, irregular stone shapes require additional stone cuts—adding to the cost for labor and stone waste.
Still wondering how much does a patio cost? Or do you have more questions about other landscape projects such as retaining walls, irrigation, and plants? Download our Comprehensive Guide to Budgeting a Landscape Project.