Winter can be a cold and dreary time of the year. The sky is grey, the ground is muddy white, and the trees are bare. There simply isn't much to look at except holiday lights. Your yard doesn't have to look that way though. With a well thought out planting design, the residential landscape can be filled with all sorts of winter interest. Keep reading to learn how to use color and texture in the garden to extend the beauty of your landscape.
Evergreens true value
Evergreens such as Pine and Spruce truly are appreciated when winter comes in Minnesota. They are one of the few plants that still look good as temperatures drop below freezing. Not only will they retain their color, they act as good wind barriers. Evergreens both big and small will improve the landscape, but for the greatest impact think about how the shrub or tree will be used. Will it be a focal point in the landscape, or apart of row to create a hedge?
Scotch Pine – A large and irregular shaped pine with bright orange and flaky bark. If you have enough space in your yard, this is a spectacular tree that commands attention in winter.
Colorado Blue Spruce – Native to the Rocky Mountain region, this spruce has a fantastic blue-green color and aroma. There are many varieties in tree form and shrub form to find the perfect size in any garden.
Yellow Ribbon Arborvitae – Just as its name suggests, the foliage on this arborvitae shrub has a yellow/gold color. It is dense and narrow for smaller spaces, but requires some maintenance and care from drying winds in winter.
Berries not just for food
Yes, plants with berries and cherries are great for eating, but ones that hold their berries through winter are great assets in the garden. These plants add color even after leaves have fallen, and can even attract birds for a winter snack. These three plants have bright red berries that will stand out in the middle of a snow storm.
Winterberry – A small shrub with lots of small berry clusters that last through late winter. Both the male and female will need to be planted in order to set fruit.
Thornless Cockspur Hawthorn – An ornamental tree best known for its spring flowers and fall color. This tree with bright red berries is just as impressive in winter.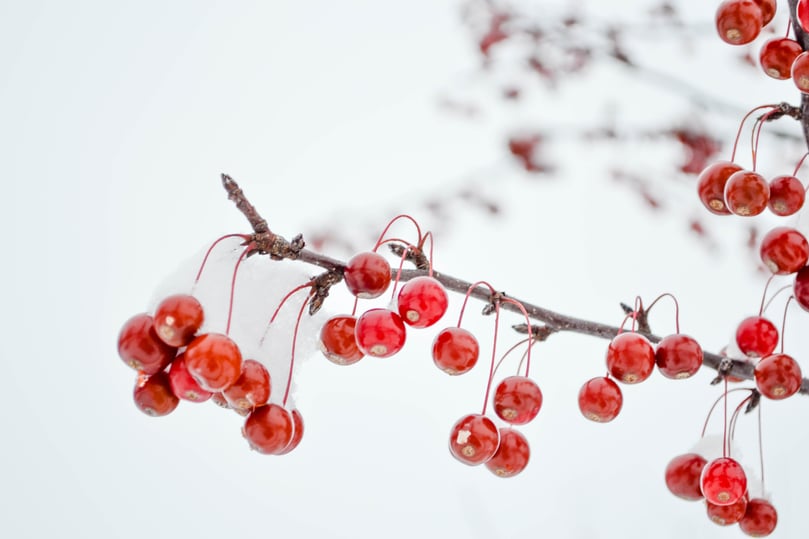 Bailey Highbush Cranberry – This medium sized shrub is great for mass planting and will look its best come fall and winter when the red foliage and berries take over.
Bark with bite
Leaf color, fruit, and flowers usually get all of the attention in a garden but the texture and color of bark can be just as eye catching when displayed properly. When winter comes, not much is visible except the branching, so it would be wise to select a few options that are unique in winter.
Red or Yellow Dogwood – In Minnesota, Dogwoods are well known for their branch color and are used in winter planters. Red twig varieties such as Cardinal and Arctic Fire are bright red and very popular, but the Yellow Twig is also a nice accent in the garden.
Variety of Birch trees – When it comes to Birch trees, you have a variety of options to choose from with great bark. The White Birch offers a stark white color with black knots. Paperbark Birch has a slightly warmer color to it, but with peeling bark that resembles sheets of paper. The River Birch also has extremely flaky bark that peels off of the branch.
Harry Lauder's Walking Stick – An eccentric shrub whose branches twist and contort. This may be an acquired taste for some people, but it will definitely be a focal point in the garden. Just make sure it is well protected since it is only rated up to a Zone 5a on the USDA Map.
Dead but still looking good
Not every plant can be green year round, or have brightly colored fruit and bark. But just because the flowers or leaves are dead, doesn't mean it's ugly. There are all kinds of plants, shrubs, and trees whose remnants add a little bit of winter interest if just for a month or two. They might not be the most showy, but these three plants will still add dimension to a stark tundra.
Oak Trees – Many Oak trees actually retain their leaves through the winter. The leaves turn brown and fall a little at a time, but not all at once like most deciduous trees. Some varieties of Oaks that keep their leaves are White Oak, Pin Oak, and Black Oak.
Ornamental Grasses – Grasses will turn brown but retain the feathery plumes into winter. Larger grasses are usually sturdy enough to stand up in winter snow and will look great. Don't be so quick to cut them down.
Flowers & Seed Heads – Most perennials will die back and get buried by the snow in winter. However, some perennials with sturdy seed heads like Coneflower and Black Eyed Susan offer an interesting look in the white snow. Sumac and Hydrangea are also two shrubs that will hold into winter.
Winter lasts six months of the year in Minnesota, so make sure your garden still looks good year round. With the right selection of winter interest plants, a residential landscape doesn't have to be cold and dreary just because the weather is. Try planting a few of plants from this list to improve your garden.