If you live on a lake or river, the best feature of your home is arguably the shoreline. Letting your waterfront property become overgrown is a waste of usable space that could be thoroughly enjoyed. Even worse is to let that waterfront wash away in front or your eyes. Here are some solutions to repair your shoreline and to invest in the most valuable feature on your property.
Regrade the slope
Slopes that are too steep are especially vulnerable to erosion. Try regrading for a more gradual slope. If you live on an extremely steep lot, installing a retaining wall might be the best method to create a manageable space along the water. Steps may need to be incorporated to access the multiple levels.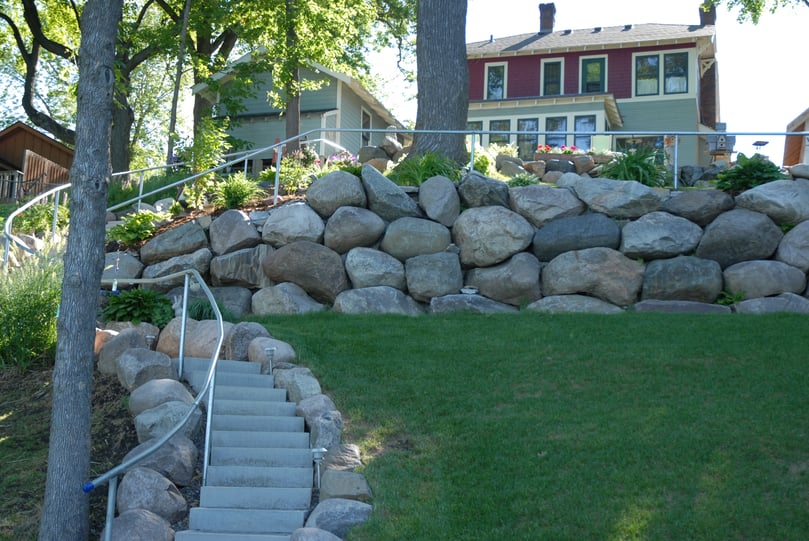 Stabilize with stone
Installing stone along the water's edge doesn't need to be the ugly rip rap that most people associate with shoreline restoration. Natural boulders built into the shoreline can look very nice while also serving a practical function. The most desirable feature of this restoration route is the minimal maintenance required. With rock, you won't have to worry about mowing and weeding.
Plant native species
One of the least expensive ways of shoreline restoration is to plant native plants along the water. Native plants around natural waterways have great ecological benefits. The roots of native plants help stabilize the soil since they are much deeper than other plants. There is less runoff into the water from lawns and hard surfaces. Having a variety of plants provide great habitat for wildlife as well. A good planting design that incorporates the entire yard will only enhance the shoreline rather than clutter it with overgrown plants.
Incorporate a patio
A great way to maximize the usability of the water's edge is to incorporate features like patios and fire pits. Everybody wants to be by the water, so why not bring outdoor living spaces right next to the water. If the slope needs to be regraded with stone and steps, building a patio into the space would be a great use of the materials.
Many shorelines erode and need to be stabilized, cleared, or restored. If this sounds like your home, you probabaly already know that you're a perfect candidate for a shoreline restoration. If you answer yes to any of these questions, consider restoring your shoreline with various erosion control methods.
Is your shoreline eroding away?
Are there trees down and roots exposed?
Is your shoreline overgrown with plants, shrubs, and other invasive species?
Is your shoreline unsightly or unusable?
Is the slope to your shoreline steep and unsafe?
Will nothing grow on your shoreline?