Many homeowners enjoy having the luxury of a backyard fire pit or a outdoor fireplace in their entertaining space. Both offer light and warmth, and a relaxing atmosphere. If you are contemplating which would work best for your outdoor space, let's compare the differences between the two.
Outdoor fireplaces are permanent stone, brick or concrete structures that are often attached to your patio, and have a chimney for proper ventilation of smoke. Fireplaces can have other features like a mantel, decorative tiles, or custom built wrought iron accents. They can burn wood or be gas fueled, whichever your preference is.
Fire pits are smaller in size and made out of block or a basic fire ring. They do not require a chimney. Perfect for a smaller scale patio or a multi-level patio, a fire pit can be easily installed most anywhere on a patio due to its size. This may be one of the most popular types of fire feature used by homeowners.
How do the two compare? Here is how each feature rates on their ability to socialize, their usability, design aesthetic, and affordability.
Socializing:
Fire Pit - 10/10

The traditional design of a fire pit encourages guests to gather in a circle while they roast marshmallows, tell ghost stories or simply enjoy a beverage.
Fireplace - 7/10
While nice to sit near a fireplace, the size and shape isn't as conducive to gather around. A well designed seating arrangement is still required for socializing near a fireplace.
Usability:
Fire Pit - 7/10
Start fire. Enjoy fire. Unless the fire wood is wet, then it's not as easy to start. Or it's a windy evening and the smoke keeps drifting into everyone's face. Some nights just aren't great for a bonfire unless the fire pit is gas powered, then it receives a score of 10!
Fireplace - 9/10
Because fireplaces are covered and designed for proper ventilation of smoke, the annoyances of an outdoor fire are greatly reduced.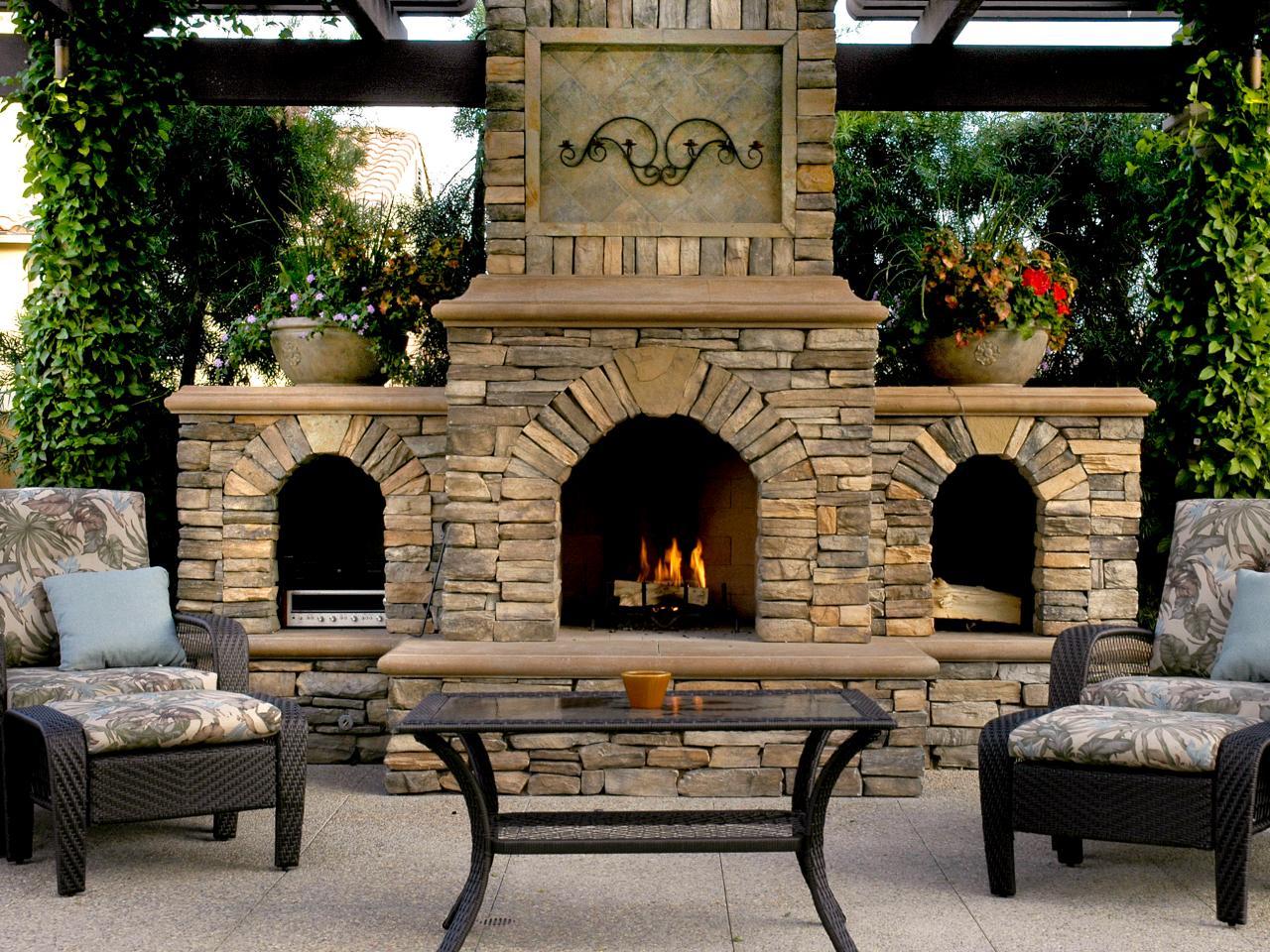 Design:
Fire Pit - 6/10
Obviously there are some incredibly designed fire pits out there, but more times than not, the fire pit is a pretty underwhelming object. It's simply a ring with fire in the middle.
Fireplace - 10/10
Adding a fireplace truly transforms an outdoor patio into an outdoor room. It will be the focal point and conversation piece of any backyard oasis.
Affordability:
Firepit - 9/10
The cost of a fire pit with concrete block could be as cheap as $700. A larger gas fire pit with higher end materials could be north of $1,600.
Fireplace - 4/10
Simply put, outdoor fireplaces aren't cheap. Depending on the size and material, one could range from $1,400 to $20,000.
Both options offer light and warmth to accommodate any space creating a relaxing atmosphere, and ambiance. Either one is a great addition to a patio, and both can be any shape, style, or size, depending on your needs.