Deer in headlights. That's how most of us feel when a home's flood lights flash on blinding us as we approach the front door. Flood lights seem like a necessary evil for homeowners who want security at their entryways. But the negatives seem to outweigh the function. Landscape lighting and path lights are great alternatives to these harsh spotlights. They offer many of the same features plus several other advantages over floodlights.
Warmer
Outdoor lighting is much warmer and softer than floodlights. A line of path lights won't blind people with a harsh spot light. Instead, they gently light walkways, steps, and railings with a wash of ambient light that is easy on the eyes. The warmth/coolness, plus intensity can be adjusted by selecting different bulbs and output settings.
More Control
In addition to customizing warmth and intensity, you have much more control over the spread, and placement of light with landscape lighting. With a combination of path lights, up-lighting, and spotlighting, an entire space can be lit rather than just a single doorway. You can also shine light on a specific item instead of one large spread of light. There is much more flexibility to light hard to reach areas that may be blocked from the original light source, or are too far away from a motion sensor.
Safety
Flood lights are good for a home's security, but not necessarily great for a visitor's safety. As previously mentioned, flood lights shine bright on one very specific location but not on a series of locations. They are also usually hooked up to a motion sensor meaning the area is dark until someone or something gets close enough to trigger it. Path lights do a much better job of highlighting steps, edges, and corners even before a motion is detected.
Timing
Just because outdoor lighting is fixed in a certain location doesn't mean it can't be hooked up to motion sensors or timers. Most all landscape lighting can be set on a timer, motion sensor, and a fixed switch. Many light systems are smart phone capable and can be controlled by an app along with interior lighting, temperature control, and irrigation. Outdoor lighting becomes just another zone in your home's smart network.
Curb Appeal
Because landscape lighting is warmer and more inviting than flood lights, it can greatly enhance your home's curb appeal. In some cases, you can expect a 50% return on outdoor lighting when selling your home. Not only do the path lights and up-lighting help your house stand out for potential buyers, but it helps highlight great features on the exterior of the house and yard.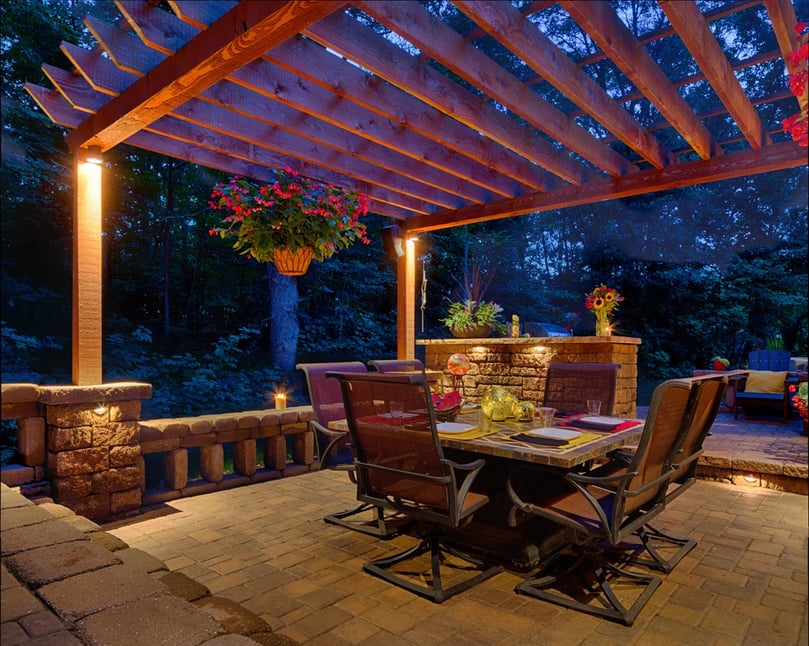 Whether the reason is for safety, convenience, or aesthetics, it is always a good idea to switch from flood lights to landscape lighting. Stop being deer in headlights. End the annoyance of flood lights. Start seeing the advantages of landscape lighting vs flood lights. Shine on!