Project Description:
Client wanted to replace two aging boulder retaining walls with block retaining walls for enhanced erosion control and water management. Replacing the boulders with block gave the walls a streamlined, clean look and feel to those areas that had been overgrown. Client also had river rock under the deck they wanted removed and replaced with pavers. This expanded the patio space to almost double; giving the homeowner a larger space for gatherings or barbecues.
EAST BOULDER WALL:
The east boulder wall had overgrown plantings and boulders that were shifting. A Versalok block wall was installed in its place along with fresh plantings which gave the area a clean, streamlined look. This also will help with soil erosion control and water runoff management.
BEFORE - AFTER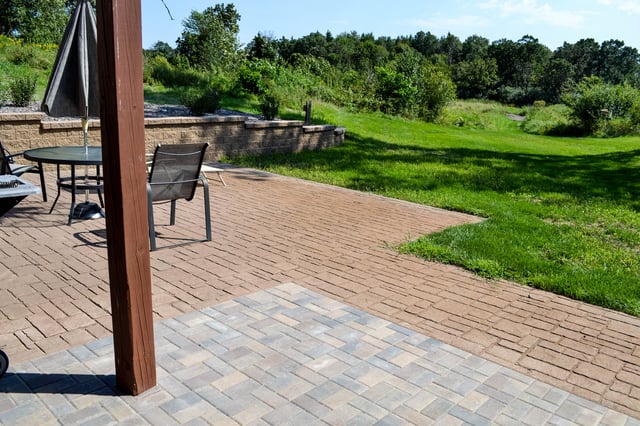 WEST BOULDER WALL:
The west boulder wall was also dated, and had started to shift. This wall was also replaced with Versalok block and river rock, and shares the same benefits as the other wall.
PATIO SPACE UNDER DECK:
Most homeowners who have a second level deck end up with an awkward space underneath. Some use it for storage, some have plantings in place, and some have it finished for usable patio space. In this case, the area was being partially used, but not to it's fullest extent. The homeowner wanted pavers installed where the rock was to create a more usable space.
BEFORE - AFTER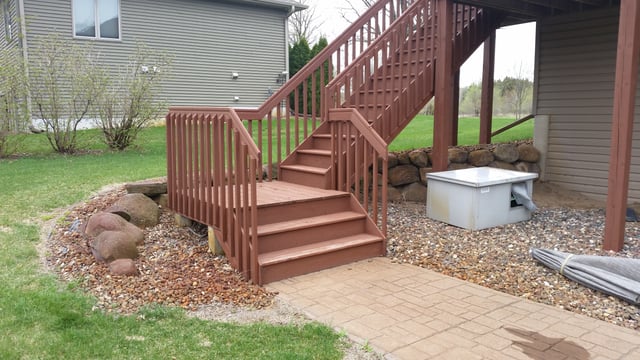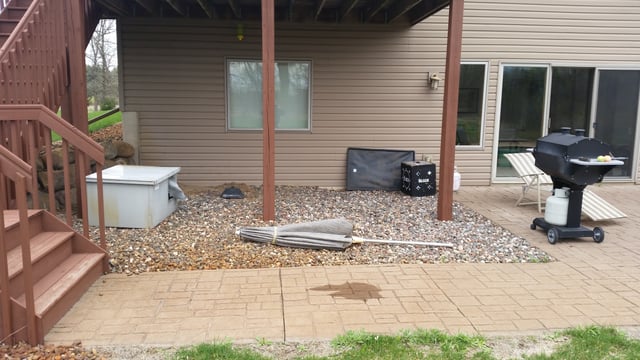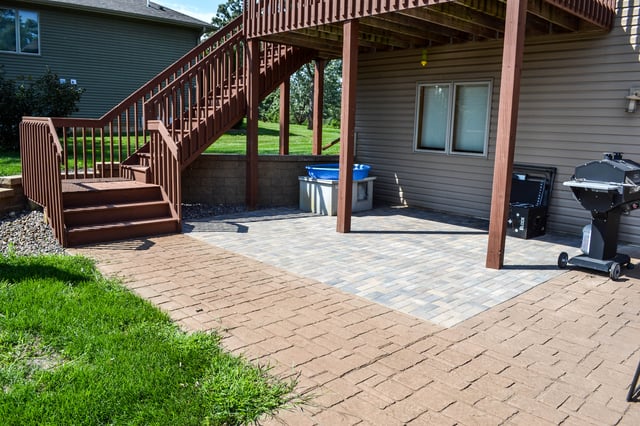 Customer Needs:
Enhanced soil erosion control
Water runoff management
Larger gathering area/usable patio space
Peterson Solutions:
Removed river rock from under deck and replaced it with pavers
Removed both existing boulder walls
Installed rock, weed barriers, and Versalok block walls where both boulder walls were
Installed shrubs and repaired lawn with seed where needed
Primary Materials:
Versalok block
Pavers
Weed barrier and river rock
Shrubs
Grass Seed
Project Duration:
Day 1 – Removed rock under deck and both existing boulder walls
Day 2 – Installed block wall along side of patio
Day 3 – Installed block wall along side of deck and deck steps
Day 4 – Installed paver patio under deck, along with vinyl edging. Also installed 10 shrubs, fabric, and river rock. Repaired lawn with black dirt and seed.