Project description:
Removal of old worn out landscaping and installation of new foundation plants plus lawn repair. This consisted of; pulling out shrubs, cutting down trees, removing rock and edging, and removing the rock around the tree.
BEFORE AFTER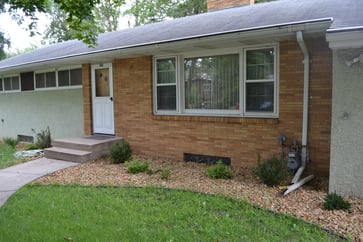 Customer Needs:
Remove old shrubs
Cut down trees
Remove rock and edging
Remove block around tree
Peterson Solutions:
Removed all old trees, shrubs, and landscaping
Installed poly edging and weed barrier felt
Installed new shrubs and plants
Spread pulverized black dirt on all areas and covered with seed and fertilizer
Primary Materials:
Pulverized black dirt
Weed barrier felt
Poly edging
Rock
Shrubs and plants
Project Duration:
Day 1-Removed old landscaping and cut down trees. Removed block from around tree. Installed weed barrier felt and poly edging. Planted new shrubs and plants. Spread pulverized dirt on all disturbed areas and covered with seed. Fertilized entire yard.