The buzzword for homeowners trying to sell their house is 'curb appeal'. How does the house and landscape look from the street? Is it quaint and charming or creepy and old? The first look at a home can be the deciding factor whether or not a house sells. We all know we shouldn't judge a book by its cover, but sometimes it's just too difficult to look past the overgrown jungle and see potential in a home. This is why every homeowner should read these five ways to transform the curb appeal of your home.
1. Clean up overgrown plants
Nothing is a bigger deterrent than a yard that's overgrown with weeds and shrubs. They block the view of the house, distract from the positive features, and scream 'high maintenance' once moved in. Have those overgrown, unhealthy, and poorly placed shrubs removed. Trim back trees but don't go overboard. Trees are extremely valuable to prospective buyers. Turn those mature trees into a focal point if they are healthy. Plant a diverse selection of plants around the foundation of your home with a fresh layer of mulch. Don't overplant however; the goal is to dress up the front of the house, not intimidate with lots high maintenance plants.

Notice how the shrubs are too close to the house and blocking the view of the front porch.
2. Create a grand entry
The front walk and entry is the first impression for visitors, make it an impactful one. If your front steps are too small, cracked or stained, replace them with a new and inviting walkway. Adding a wide stoop and a new concrete path is a huge improvement, but so much more can still be done. A well designed paver walkway and front patio space can transform the front entrance into a focal point. Place a couple of chairs outside and prospective buyers will start to imagine spending their evenings outside.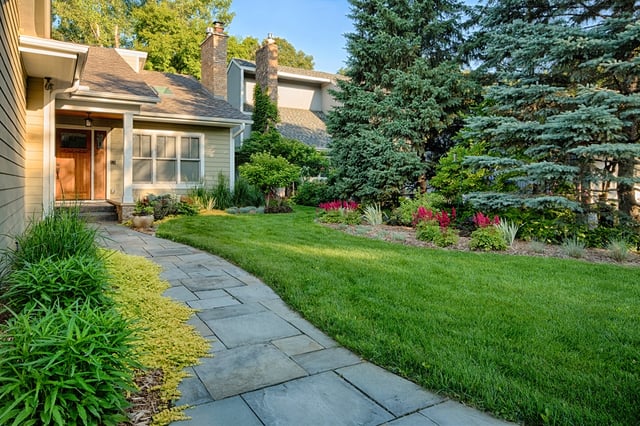 An upgraded stoop and stone pathway create a welcoming entrance for every guest.
3. Add potted plants and window boxes
For instant color, add annual plants in decorative pots or window boxes. This simple step can dress up an otherwise boring exterior. This is an inexpensive upgrade that still makes a big difference. The plants can be easily swapped out depending on the season so it looks its best no matter the time of year. Every little improvement will help differentiate your house from the rest in your neighborhood.

What would be a stark white exterior is dressed up with window boxes and decorative pots.
4. Add lighting
Now that you've added a fantastic entryway with great new plants, it's time to show them off at night with lighting. In a NAHB survey, 41% of people rank outdoor lighting as essential. Simple path lights illuminate the entry of your home in an inviting manner. Additional lights highlighting garden beds and trees create a soft environment with a homier feel. Sufficient lighting also improves home security and safety in hard to see areas of the yard.

Landscape lighting and basic path lights redefine this front entrance.
5. Edge and define yard
Add definition to the yard with edging and decorative borders. Prospective buyers like to see clean, orderly, and even symmetrical yards. Make it clear where everything is instead of a jumbled mess. The driveway, front walk, yard, gardens, mailbox, and front door should display value rather than hide it. Install edging around garden beds to separate mulch from lawn. Don't let objects like mailboxes, lights, trees and plants float in the yard. Define spaces around them. Driveways and walkways are easily dressed up with a decorative border, either a stone edge or complimenting paver pattern will do the trick.

Edges are clear cut and well defined.

Mailbox is dress up with plants and stone border.
Improving curb appeal doesn't have to involve a house renovation or major landscape project. Simple improvements will clean up the negative features and highlight the focal points. A combination of these 5 steps will set your house apart from the rest.