It's time for a new lawn installation in your residential landscape. Maybe you've just built a new home and there isn't any lawn, or maybe the existing yard has seen better days and needs to be replaced. Whatever the reason, installing a new sod or seed lawn can be a major undertaking and should be properly budgeted for. The cost of installing a lawn is much more than just the square footage price for a roll of sod.
1. Black Dirt/Topsoil
The key to a healthy lawn is good and nutrient rich soil. The composition of subsoil compared to topsoil is compacted and doesn't hold water or nutrients well. Since the root depth of lawn grass is very shallow, it is critical that the top layer of soil is providing all the nutrients needed.
Poor soil conditions will make it difficult for the roots to establish and the lawn is much more susceptible during droughts. Yards that have heavy clay soil or very sandy soil will also face drainage issues. Lawns that aren't planted on good black dirt are usually the ones that are thin and patchy. It is recommended to spread and grade 4-6" of topsoil before laying any seed or sod.
2. Irrigation
Lawns need water and lots of it. You may be wondering why your lawn is always dry and brown, when the neighbor has a lush carpet of green year round. The answer to your question is most likely water. Some sort of residential irrigation system is important for the success of a new lawn.
Some landscape companies won't even bother installing a new lawn without pairing it with an irrigation system too. Some people don't mind dragging a hose around the yard, and that's fine, but establishing the grass in the first month with water is critical. Temporary systems can be installed during that period. But if you don't want to deal with the hassle of manually watering, then budgeting for inground irrigation is a must when installing a new lawn.
3. Time
Countless times has a homeowner wanted to install a new lawn for a graduation party, 4th of July, or family reunion.
The only problem is that it takes time for new seed and sod to establish. The actual time for sod installation may only be a day or two, but that doesn't mean the grass is ready to use.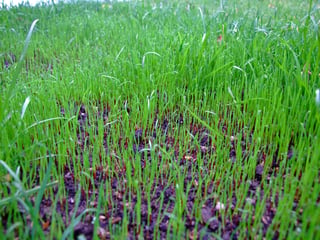 Freshly laid rolls of sod take may take 2-4 weeks before it's ready to use. A seeded lawn could take 2-3 months before it is fully developed. Depending on how quick you need a full established lawn may determine what method you use. Time is money in this instance and should be factored into the overall cost.
Nobody likes sticker shock when it comes to home improvement projects. In addition to the cost of sod and installation, things like irrigation, black dirt, and timeline need to be factored into the budget. The option to phase a project may help you get around some of the costs, but it is important to be prepared regardless of the project.